Wang Quiets the Red Sox With His Stoic Way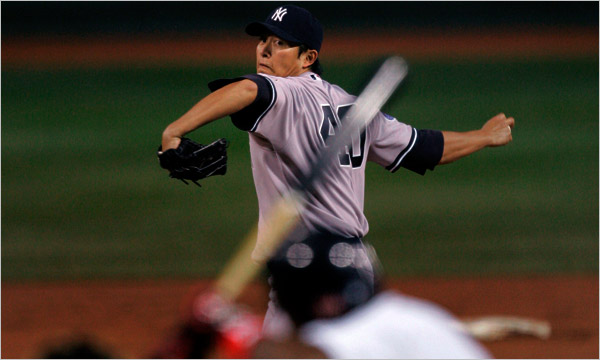 Photo Credit : The New York Times
Yankees 4, Red Sox 1
Wang Quiets the Red Sox With His Stoic Way
By TYLER KEPNER
Published : April 12, 2008 / The New York Times
He has never thrown a no-hitter, like Clay Buchholz, or had a shutdown performance in the World Series, like Josh Beckett. He never captured the imaginations of Yankees fans as an electrifying rookie, like Phil Hughes, and he is not as accomplished as Mike Mussina, Andy Pettitte or Curt Schilling.
But there is no pitcher in the majors with as many victories as Chien-Ming Wang since the start of the 2006 season. He is efficient and dependable for the Yankees, a quiet, stoic and steady presence in their rivalry with the Boston Red Sox. When the teams met at Fenway Park on Friday for the first time this season, it was Wang who took over.
Wang pitched a two-hitter in a 4-1 victory before 37,624 fans, the largest crowd at Fenway Park since World War II. Jason Giambi homered for the Yankees and José Molina doubled twice, but Wang was the star.
"He's become the ace of our staff, there's no doubt about it, and tonight he pitched as well as anybody could pitch," Yankees General Manager Brian Cashman said. "He seems to be refining his repertoire on how to attack hitters, and that's a great thing. Right now, he's at the top of his game."
Wang used 93 pitches to silence the Red Sox, who had seen 212 pitches Thursday against Detroit. He faced two batters over the minimum, and for eight and two-thirds innings, Boston's only hit was a fifth-inning homer by J. D. Drew that just eluded Bobby Abreu at the wall in right-center field.
Coco Crisp added a bunt single with two outs in the ninth, but Dustin Pedroia lined to left to end the game. It was the fourth career complete game for Wang, who is 3-0 so far and 41-13 over the past three seasons. He called this start the best of his career.
"I feel especially good about this one because I threw it in Boston, and before, I didn't do very well in Boston," Wang said through an interpreter. "So I think this is my best game so far."
The Yankees and the Red Sox are known for lengthy games, with pitchers nibbling at the corners of the strike zone, hitters swatting fouls and managers churning through bullpens. On Friday, though, Wang neutralized the Red Sox by pounding the zone with sinkers and four-seam fastballs.
"They just didn't look comfortable," Giambi said. "Boston is almost an exact mirror team as us — guys who take a lot of pitches, take their walks and do a lot of damage by hitting home runs. He threw a lot of strikes and caught them off-guard."
Wang came into the game with a 6.17 earned run average at Fenway, largely because of the sluggers Manny Ramírez and David Ortiz, who had combined for a .538 average off him. Because of that — and because of the playoff beating he took from the Cleveland Indians last fall — Wang had vowed to change his approach this season.
He worked on his slider and changeup in spring training, and though his results were poor then, he used the slider effectively Friday, striking out Ramírez with it in the seventh inning.
Wang said he also used more four-seamers than usual, attacking Ortiz with that pitch in the first inning, when Ortiz struck out. His next time up, Ortiz swung at a first-pitch sinker and bounced into a double play.
"We didn't take anything away from him," the pitching coach Dave Eiland said. "We just added some things to complement him."
Buchholz, who pitched a no-hitter last September in his previous Fenway start, held the Yankees to one hit through four innings. But he walked three in the fifth, and Molina's first double drove in a run.
It was a long half-inning, and when Wang returned, he was not sharp. His pitches flattened as his arm angle dropped, and the Red Sox smashed four fly balls. Drew's came with two out and backed Abreu to the warning track.
Abreu is rarely smooth around walls, and when he leaped, his right shoulder hit the padding on the fence. That brought down his glove a few inches, and Drew's ball grazed the fingertips before landing in the Red Sox bullpen.
Abreu said he should have made the catch, and he felt bad for missing it. The feeling grew worse as the game went on, the "1" staying stuck in the Red Sox hit column until the very end.
"I saw the innings going and going," Abreu said. "A lot of things went through my head."
The Red Sox, meanwhile, rued their missed opportunities in the fifth. Ramírez and Kevin Youkilis had also flied out to Abreu, and Jason Varitek mashed a ball to the warning track in center. But only Drew's went out.
"There were times in the game when he threw his two-seamer middle, and then it went away and we just got it not quite off the barrel," Red Sox Manager Terry Francona said. "The game plan was to get it up and stay in the middle of the field, and we did at times. We had nothing to show for it."
Buchholz left after six innings with the score tied, 1-1. His replacement was Mike Timlin, who had missed the first 10 games with a lacerated right ring finger. Giambi — 1 for 20 this season, 2 for 17 in his career against Timlin — was the first hitter he faced.
"I just tried to hit it hard, nothing special," Giambi said. "I was just trying to put it in play, because I knew he had good success against me."
With a full count, Giambi did much better than he hoped. He launched a fastball onto a platform next to the center field cameras, breaking the 1-1 tie.
It put a lead in the hands of Wang, a pitcher the Yankees are thrilled to have at the front of their rotation, with no apologies.