我的Off-Off-Broadway初體驗
感謝識途老馬的帶領
我終於第一次踏進Off-Off-Broadway的世界
而我們準備前往觀賞的劇碼名為
Urinetown, the Musical
演出地點則在位於Brooklyn的
The Gallery Players
這其實是一部曾經在2001年到2004年間在Broadway上演過的劇碼
更在2002年奪得Tony Awards的Best Director, Best Original Score和Best Book of Musical三項大獎
而現在則在The Gallery Players 40th Anniversary season中被重新演繹
對於首次踏入Off-Off-Broadway表演場的我們
這樣娛樂性十足的劇碼的確是再適合不過了...
這是一齣角度有點類似於The Producer的musical
(但我個人認為手法上比The Producer更具創意和娛樂性)
試圖在講述故事的同時
藉由嘲諷所謂的音樂劇標準公式並進而做出顛覆
誰說英雄一定要人見人愛...好人最後終會得勝...所有人都會因此而過著幸福快樂的日子?
讓觀者除了在得到一般音樂劇帶給你的視覺上及聽覺上的享受外
也能因為narrator不時提供的註解而得到意想不到的樂趣
除了劇本和音樂本身就早已是備受肯定的佳作之外
在舞台場地大小極為受限的狀況下
導演Tom Wojtunik將演員的表演舞延伸到觀眾席中
觀者和表演者的距離如此貼近讓觀者更能清楚地觀察到那些演員在表演當中的小動作
進一步地強化了表演的張力和說服力
也更能感受到演員真實的演唱及表演功力
看完整場表演後
你八成會和劇中的Little Sally一樣想問
"What kind of musical is this ?"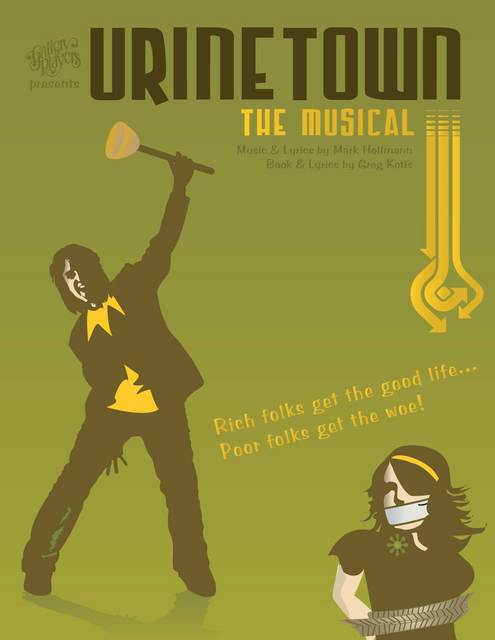 Book by Greg Kotis
Lyrics by Greg Kotis and Mark Hollmann
Music by Mark Hollmann
Producer: Katie Adams
Director: Tom Wojtunik
October 14 - November 5, 2006
Originally directed on Broadway by Gallery Players alum John Rando, Urinetown is one of the most uproariously funny musicals in recent years. It's a hilarious tale of greed, corruption, love, and revolution in a time when water is worth its weight in gold. In a Gotham-like city, a terrible water shortage, caused by a 20-year drought, has led to a government-enforced ban on private toilets. The citizens must use public amenities, regulated by a single malevolent company that profits by charging admission for one of humanity's most basic needs. Amid the people, a hero decides he's had enough, and plans a revolution to lead them all to freedom! Inspired by the works of Bertolt Brecht and Kurt Weill, Urinetown is an irreverently humorous satire in which no one is safe from scrutiny.